Intraduction
EMS(Electrical Muscle Stimulation), Mesoporation, Electroporation, RF( Radio Frequency), LED
Microcurrent:
Four elements are used to ensure that the electrical current works randomly and stimulates the muscle tissue very gently causing a secondary muscular movement that preserves the skin's elasticity and suppleness.
Electroporation
Introducing beauty essence into your skin
This beauty machine is used for collagen injection without a needle. Macromolecular components such as collagen and hyaluronic acid cannot easily penetrate the deeplayer of the skin from the surface. But with our special technology called "Electroporation" you can achieve a high level of effectiveness without any pain.
Mesoporation
Nutrition import penetration compared with ions from the skin surface is1mm about 10 times, 4mm about 27 times. The active ingredients into the skin. Which can function efficiently, so you really feel the skin improvement and delay aging effect.
RF
For detoxification, lymphatic drainage, improve blood circulation. Electrical energy tends to follow the shortest distance between two electrodes. When electricity runs through living tissue the high energy flow generates heat as a characteristic of the electrical energy and the resistance to electricity by the living tissue. This is another feature of Dr. Arrivo that adapts electricity to be gentle on the skin.
LED
For treatment of acne lesions. It works efficiently without damaging the skin by using an especially sensitive LED light developed exclusively for beauty equipment.
Features:
1.Use 3 times per week for 10minutes each time.
2.easy to carry,can be held in the hand.
3.suit for uv-damaged,acne-prone,blemished skin,soften the lines and wrinkles, prevent the ageing skin problem,against pigmentation skin.
4.suit for :face/bridge of the nose/forehead/chin/eyebag and the wrinkle care. LED light is used to provide a painless skin-care treatment that plumps up skin by boosting collagen production and treats mild to moderate acne.
5 Lights can solve skin problem: red light(620nm):Promote collagen regeneration, skin elasticity, fit for wrinkled skin. green light(520nm):Applied to suppress skin melanin to whiten skin. blue light(415nm):Remove acne,shrink pore,improve the skin grease,eliminate and restrian the bacteria of the pore. yellow light(590nm):Soomthe the skin,brighten,prevent allergy. pink light(700nm):Whiten the skin,fit for dull complex skin. pink flashing:Strengthen absorption of the beauty liquid or gel.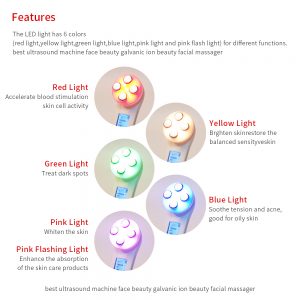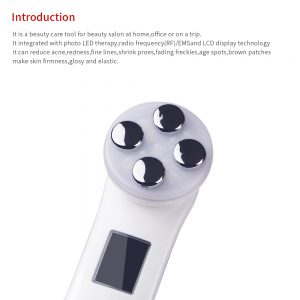 how to use:
1.Insert the USB cable connector into the device.
2.Clean your face,apply serum or cream on your face.
3.Press the POWER switch to adjust the intensity level. press once means intensity level 1; twice/third/four/five times means level 2/3/4/5; six times powers off the device. 4.Press LED SEL. button to select different LED light. press once is Red light; twice/three/four/five/six times is Green/Blue/Yellow/Pink/Flashing Pink; seven times to turn off the led light mode.
5.Move the device slowly to your face. The device will automatically shut off after 10minutes of use.
Tips:Read the manual carefully before use.
Package includes: 1.RF EMS beauty instrument 1.USB 1.Charger Base 1.English manual